LAMdeck Liquid Assets Marine

Custom

Boat and Marine Decking.
Reliable and Durable EVA Foam Deck Solutions
With regard to your vessel's flooring, who doesn't want more comfortable, safer, non-skid, more attractive custom designs, easier to clean, and quieter decking than your boats factory fiberglass flooring? Regardless of the current condition of your present deck, LAMdeck can be installed to increase your boat's comfort, looks, safety, and value.
Our EVA Foam deck material is made with UV resistant inhibitors to prevent fading, shrinking, or premature wear due to the sun's harmful UV rays that destroy factory gelcoat and fiberglass in no time.
Why LAMdeck For Your Boat?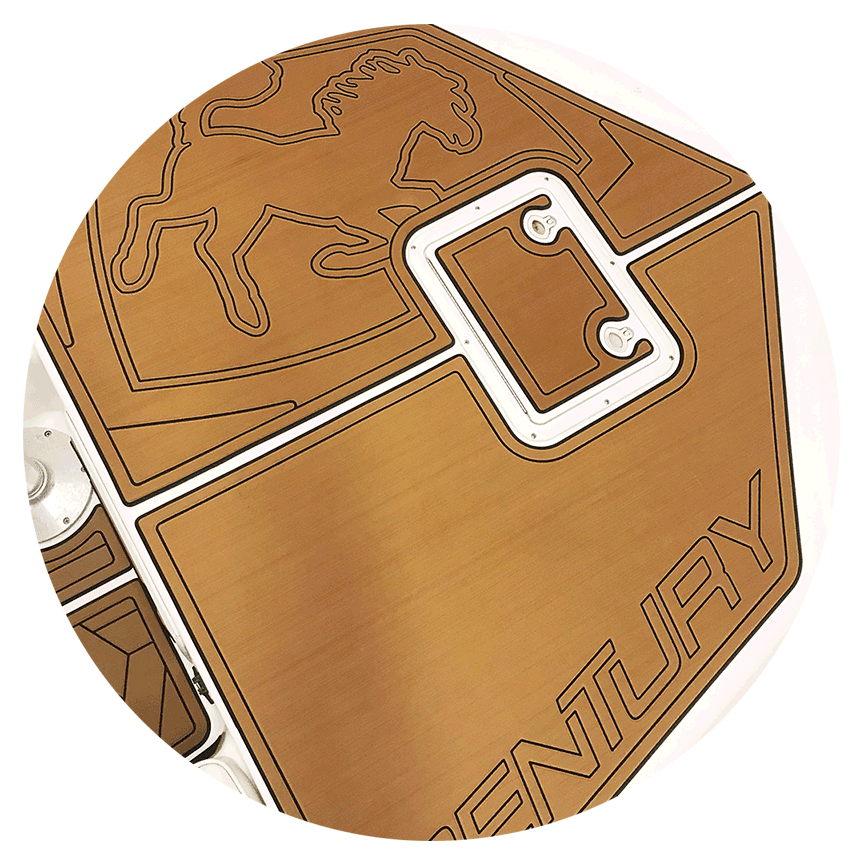 Why LAMdeck over our competitors? That's easy… Customer Service, Product Quality, and Affordability. For starters, we pride ourselves on maintaining the best customer service in the industry. We do our absolute best to give each and every one of our customers the attention they deserve. Whether you need a cooler pad, or want your entire 60' sportfish covered in LAMdeck, you are all extremely important to us and we know we would not be here without you. So call us today and let us prove it to you.
Our UV protected non-absorbent foam features an innovative brush textured surface for enhanced non-slip characteristics. Your decking can be tailored to fit a wide variety of applications on just about any type of boat or marine craft, including sport and commercial fishing boats, flats boats, sailboats, ski boats, houseboats, personal watercraft and more.
The owners and staff of Liquid Assets Marine have spent years researching and developing a product that would lead the industry in Marine EVA foam decking. Our LAMdeck material is actually MELTED together in the lamination process to prevent separating over time. And we use only the best PSA (Pressure Sensitive Adhesive) available today. You can actually stick LAMdeck UNDERWATER!!! And, we stand behind our product 100%. LAMdeck comes with a lifetime warranty, that's right…I said LIFETIME! Years of research and development means we know our product well and we know it will stand up to the harshest environments.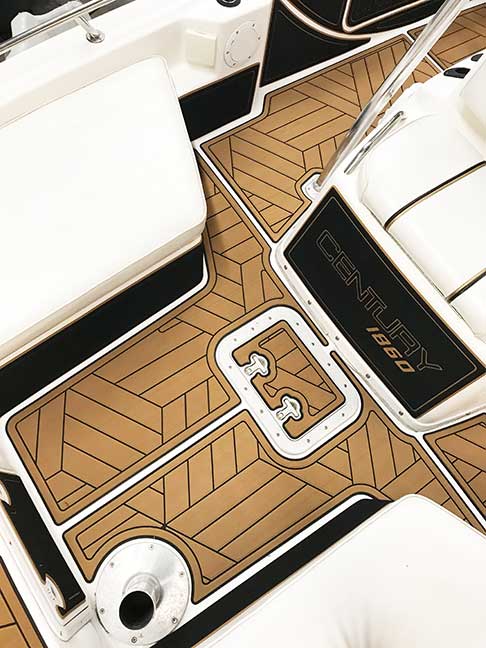 Probably the best reason of all to chose LAMdeck for your boat is affordability. We all know what BOAT stands for, don't we? Well at LAMdeck we are not trying to become millionaires overnight. We believe in providing an excellent product for an excellent price. Boating is expensive enough, you don't need to be dragged over the coals to get a great looking and feeling deck below your feet. We are sure that you will quickly see that LAMdeck will beat our competitors pricing across the board. Call us today and we can get you a price for your custom LAMdeck job now!
Liquid Assets Marine can transform your boat from ordinary to extraordinary! Change the entire look of your boat with one of our top of the line 3M ultra durable marine vinyl wraps. We use only 3M products and not only do we use top level 3M marine vinyl, we also use a 3M clear lamination over the vinyl to protect it from dock rash, trailer bumps, and friendly boo boo's on the water. If you are looking to spice up your ride on the water, give us a call.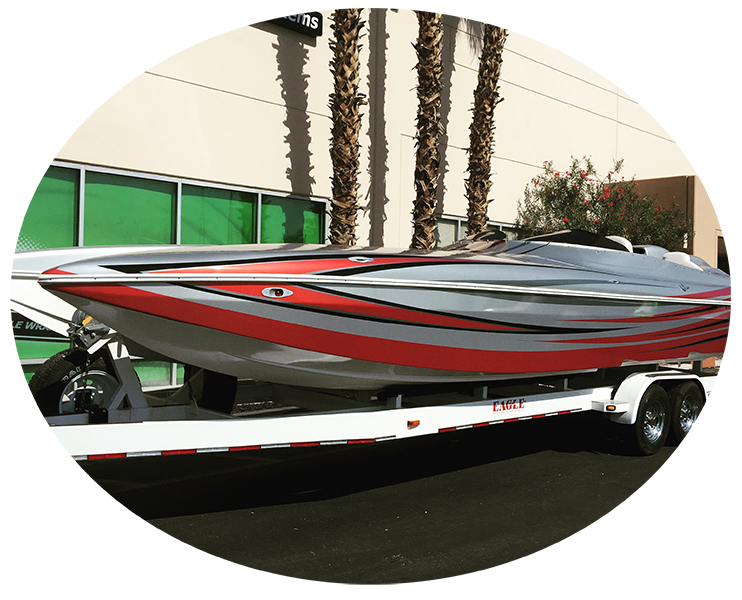 The wrap process starts by talking to you to find out exactly what kind of design you want. If you aren't sure, that is no problem either. We have professional graphics designers on staff that can give you several examples of different design styles. Point us in the right direction and we can run with it from there. But don't worry, we won't print anything until you say, "Yes, that is exactly what I am looking for." We don't have a maximum change order. We don't have a maximum sample layout. What we do have is the desire to make sure you are happy. So if that takes 3 tries, or 30 tries, we will do what it takes to make sure you are absolutely thrilled with your wrap.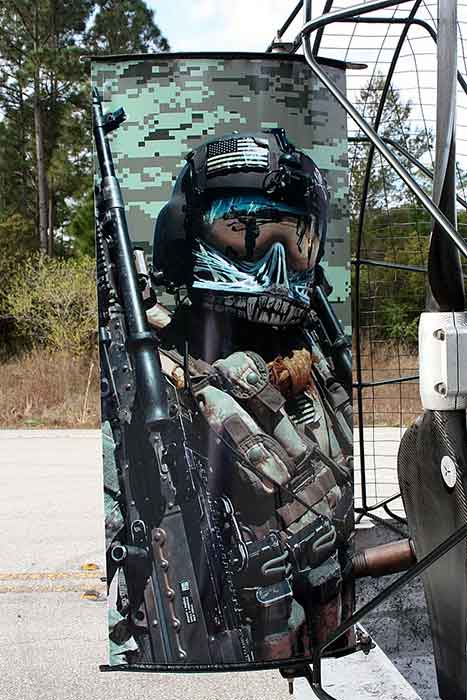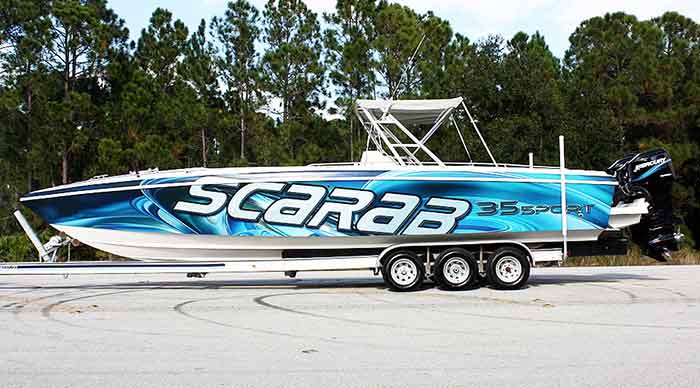 If you are just looking for a subtle change, we can help you there too. Some of the services we offer in our vinyl graphics department are:
| | |
| --- | --- |
| | Complete custom boat wraps |
| | Total boat color changes |
| | |
| --- | --- |
| | Vinyl cut boat names and FL numbers |
| | Graphic printed transom names |
Let Us Add Boom to Your Boat.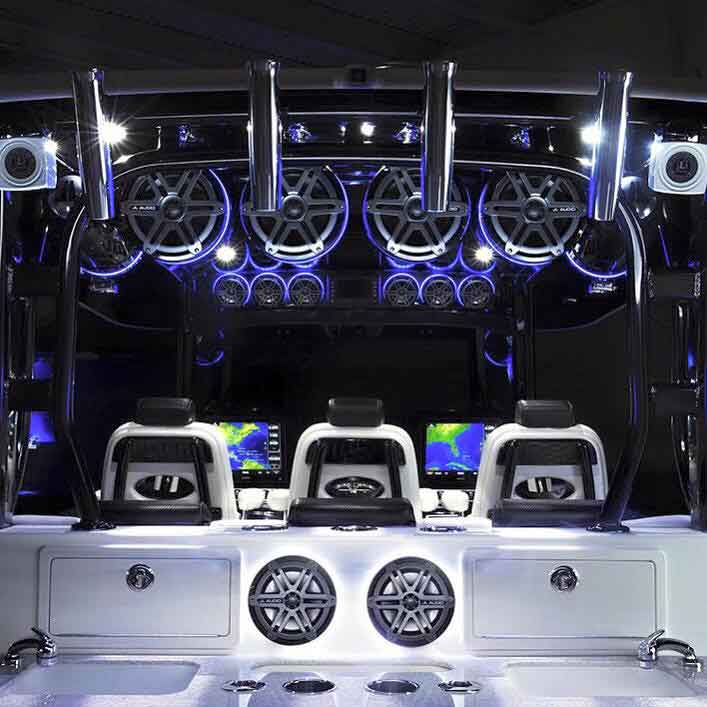 We do everything from custom audio installation to electronics packages to adding batteries and battery chargers to bilge pumps and everything in between. If you are looking to upgrade or add audio or electronics, just say the word and we can give you several options that should suit your needs and budget. Don't have LED lights in your cockpit? What?!?! We can hook you up! Underwater Lights, Cockpit Lights, LED Nav and Anchor Lights, we have it all. Come see us or call today!!! If you can think of it, we can do it!!!